ABOUT THE CONGRESS
CONGRESS VENUE
The congress will take place at the NH Collection Genova Marina hotel: Molo Ponte Calvi, 5, 16124 Genoa, Italy
The conference room can accommodate up to 150 participants.
CONGRESS SECRETARIAT
ANT Congres
E-mail: eccn-congress@ant-congres.com
Tel: +33 (0) 4 67 10 92 23
LANGUAGE
The official language of the meeting is English /// No simultaneous translation will be available
HOW TO GET TO THE HOTEL
From the Genoa Airport – Cristoforo Colombo
Taxi: It's a 25 minutes trip and costs around €20.
Aerobus shuttle: Departs every 40 minutes and costs €6.00. Take the Volabus bus that links the city center and Genoa Airport. Get off at Genova Piazza Principe. The hotel is a kilometer away.
From Darsena metro stop: The hotel is 230 meters away.
Closest metro station: Darsena metro
Ticket (100 min): 1.50€ Ticket (24h): 4.50€
The hotel's GPS Coordinates: 44.4110317°N 8.926434500000028°E
Parking: Onsite. €1.80 / hour. €20.00 / day. Parking cannot be reserved in advance.
HOW TO GET TO GENOA ?
HOW TO GET TO GENOA
By plane: Cristoforo Colombo Airport
– The airport is located in Genoa's Sestri Ponente neighbourhood, a few kilometres from the city centre, to which it is connected by public transport, taxis and trains. In addition, the Airlink service offers a direct connection between the Sestri Ponente station and the airport, with a ride every 15 minutes, from 6 am to 10 pm. A pedestrian walkway, above the railway line, allows easy access from the Genova Sestri Ponente station to the AMT shuttle bus stop for the airport.
By train: Genova Piazza Principe
– The city's central stations are Genova Piazza Principe (the main departure/arrival point to and from the North and West) and Genova Brignole (the main departure/arrival point for connections to the East and South). Genoa is also daily connected by direct Thello trains to the South of France; arrivals and departures from/to Monte Carlo, Nice, Antibes, Cannes, Saint-Raphael, Toulon, Marseille, without border train changes.
By car: Genova Piazza Principe
– Four motorways connect the city to the national network at different points:

A12 Genova – Rosignano: in the East, GE Nervi and GE Est exits;
A10 dei Fiori Genova – Ventimiglia: in the West, GE Prà, GE Pegli and GE Aeroporto exits;
A26 Voltri – Gravellona Toce: connecting to the A10 at GE Prà;
A7 Serravalle Genova – Milano: GE Bolzaneto and GE Ovest exits.
ACCOMMODATION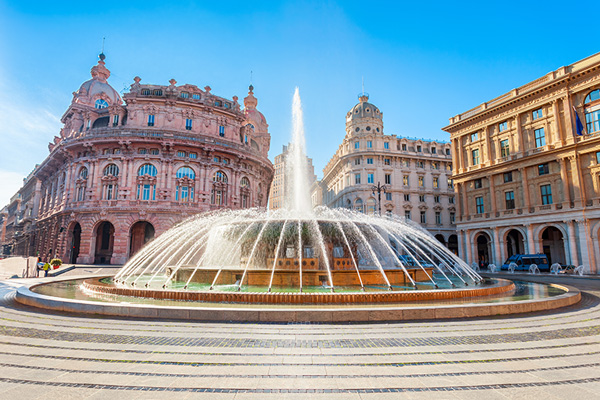 There are over 2,000 beds in hostels, B&Bs, budget and on-campus accommodation in Genoa as well as Airbnb rentals. Find out more information here.